JOIN THE 28-DAY FAT BURNING INFERNO STARTING AUGUST 9
~ IT'S THE JUMPSTART YOU NEED. DON'T MISS OUT. ~
28-Day Fat Burning Inferno
2020 and 2021 have been rough, and we have heard from a bunch of members that they want a program to help them to quickly get back into shape. So, of course, I put my thinking cap on and came up with a program that I think you are going to LOVE! It is a 28-day program giving you an advanced nutrition plan, all of the accountability you need, and workouts designed to burn fat and get you feeling your best again. The best part? You'll get twice the results in half the time with our 28-Day Fat Burning Inferno.
Tone Up your Hips, Thighs and Arms Fast With The Only Workout Designed to Burn Double the Calories, in Half the time
28-Day Fat Burning Inferno

---
Want to burn twice the fat as running and tone up your body at the same time? I've been experimenting with my clients and I've stumbled upon a better way to burn fat and increase muscle tone for them. And I think it might be something that you'd be interested in…Maybe?
Let me tell you all about how this new way of working out can burn more fat and make your body more athletic in LESS time… I'm talking about a complete fat burning workout in just 45 minutes, 3-4 days per week instead of the 90+ minute "cardio" workouts that you've been doing.
The secret to my new faster results program is all about building muscle tone. Now, I should tell you that I'm talking about muscle tone and NOT muscle mass. Muscle mass is all about being bulky and big…but muscle tone is all about having lean, long, firm muscles that look great and function well. That's the kind of muscle that you want – not the big bulky kind.
Now the reason I mention this is because this new type of working out that I've discovered requires more than just cardio training… it's all about working your body against resistance. BUT the big problem with doing cardio training is that it takes WAY too much time…like over an hour per workout 5-6 times per week. But I've come up with a way to get your cardio training in and done in under an hour AND you'll actually burn MORE fat even hours after you're done training.
Fat Burning Inferno Success Stories
It's called Metabolic Conditioning: Twice The Results – Half The Time
That may sound crazy to you, but there's actual science, and plenty of it backing this type of training. I'll break it down for you in a nutshell… The old way of training is called "steady state" training. Like when you get on the treadmill or stationary bike and go at it for a period of time.
Now the thing with Steady State training is that it will burn calories…. …but the calories you'll be burning won't be much compared to the new type of training that I've discovered. On the other hand there's something called "the after burn effect" which is a state that your metabolism goes into that allows you to burn calories for up to 48 hours after your workout.  That's how you'll get *TWICE* the results of conventional training in (literally) half the time. Yep, you heard right.
Now, for After Burn to take place you need a few things to happen during your actual workout – which does not happen during traditional steady-state training. And that's the magical thing that I've stumbled upon – a new way to put you into After Burn and help you burn more calories during your actual workout AND for as long as 48 hours after your workout. Here's the thing… these workouts are challenging, but always fun and fast (about 45 minutes long).
So what's the secret? Well, it's a combination if HIIT (High-Intensity Interval Training) mixed with Active Rest periods and Exercise Stacking. Together these three things not only help you burn more calories while you're working out, but you keep burning more calories several hours after your metabolic session thanks to the "After Burn Effect", which DOES NOT happen with steady-state training.
Brandon's Story
Now before I give you any more information, I want tell you a little bit about myself
My name is Brandon and I understand how hard it is to lose weight and get fit…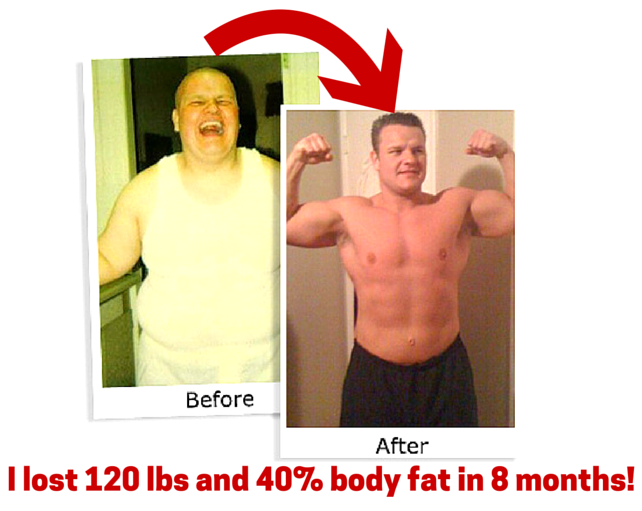 I moved to La Mirada in August of 2004 to attend BIOLA University. When I enrolled in college I weighed 308 pounds. I tried everything to lose weight. Nothing worked. I felt hopelessly trapped
I Discovered Something That Worked
FINALLY, I found something that did work for me! After losing 120 pounds I was shocked.
Girls liked me

I could wear "skinny people" clothes

I had more energy
I never wanted to go back BUT I needed to know how it worked…
In 2005 I decided to become a trainer and set out to discover the science behind my life changing transformation. I never wanted to struggle with my weight again.

After thousands of hours of study, personally testing my new methods and transforming hundreds of clients, I formulated a brand new system that nearly anyone can use to quickly lose weight and maintain their weight loss for the rest of their life.

You probably know that my regular programs are already pretty much full, but I do have room for another small group so I thought I'd let you know that my NEW 28-Day Fat Burning Inferno starts Monday, August 9 and it's available to the first 12 who enroll…

Now before I give you any more information, take a look below at some of our clients' results. They all live local so I'm sure you've heard about some of these individual success stories.
More Fat Burning Inferno Success Stories
What Is The 28-Day Fat Burning Inferno?
Now that we are all starting to get back into the gym, we have some EXCITING NEWS!!!
During the shutdown, our team worked hard to create a 28-Day Fat Burning Inferno Advanced Nutrition and Accountability Program to help you get you in the best shape of your life over the next 28 Days. It is specially designed to get you TWICE the results in HALF the time!
Get That Body Back
If you are tired and unhappy with the way you look and feel, then this is your chance to take action.
Let us HELP YOU reach your goals with our Fat Burning Inferno Advanced Nutrition and Accountability program.
The 28-DAY FAT BURNING INFERNO is an extreme program designed to give you the fastest changes in body composition possible.
It requires total dedication but it will be fun and you will need to follow our zero restrictions nutrition plan.
When you join the 28-DAY FAT BURNING INFERNO, you will receive:
Four weeks of awesome fat burning and body toning workouts

Pre and Post program fitness evaluation

Customized nutrition plan to follow

Unlimited motivation and accountability

AND my "after burn" system so you can burn more fat!
Lightning Fast Results
My team and I did our best to design an extreme plan that will deliver light-speed results.
Fit Back Into Your Skinny Jeans Again

Drop 7-21 Pounds of Unwanted Fat

Firm & Tone Your Butt, Hips & Thighs

Melt 3-5 Inches From Your Belly

Speed Up Your Metabolism ‍

Lose Weight While Having Fun
Here's what you need to do now to reserve your spot in my 28-DAY FAT BURNING INFERNO program:
Just call me at 562-448-2082 Or click the red button below and let me know that you want in.
That's it, it's that easy. And then on Monday your 28-DAY FAT BURNING INFERNO workout program will start!
P.S. This is for all fitness levels. Even if you've never worked out before this program is for you 🙂 My personal guarantee is that it will be hard but worth it in the end!